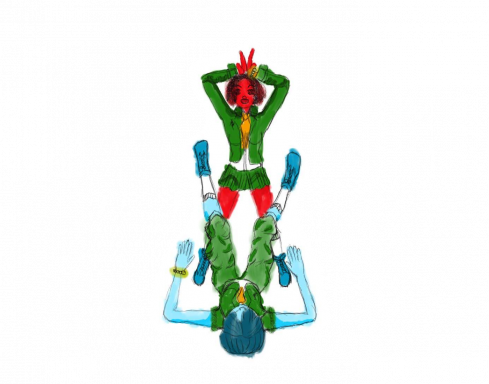 Veteran
Magnus sighed. It was as he thought.

"You insult my intelligence sir. Avoiding questions, drawing out a conversation to suss out my intentions because you clearly don't trust me and you're trying to protect those of your clan.

It's not me you should fear, i come bearing news, a warning for you all. Though if you're going to insult me with these games i guess i shall leave it...

Who ever you're protecting or hiding... i don't hold any interest.... but you're on a time limit... when you're ready to treat me as i deserve... i'll be here waiting... for the real you.... pass on the message...

I'd advise you decide quickly...."

Magnus waved his right hand as a black substance formed from the ground and the air behind him as he fell backwards into a throne that had just formed as he sat waiting...

You must be registered for see links

Rank: D-S
Type: Attack/Defence
Range: short - long
Chakra Cost: 10-40
Damage Points: 20-80
Description: This is the basic application of carbon release where the user will gather carbon in the air, the ground or create it from their own chakra (spitting it out ect) to form structures of carbon. This can be anything from weapons, to walls, to spikes, domes, anything inanimate which they can use as projectiles as well. For example the user could create a kunai of carbon and launch it at their opponent. The larger the object, the higher the rank. For objects larger, than the user they will need to be A rank. To use the A rank version and higher, the user will need to perform 1 handseal. This can also be used to reshape current carbon the user controls which they can use to attack with again, in a similar way to earth release but on a unique level. Due to the control required, the user is not able to form microscopic carbon, the carbon they gather will be around the same size of a small pebble and so always visible to normal ninja. B rank and below carbon structures can be made with arm movements or a single handseal. A rank can only be used once per turn. S rank can be used 3 times per battle, with two turns in between uses and no carbon above B rank in following turn.

Chakra: 3000 - 10 = 2990
The bot rose its eyebrows confused at the fellow who was mad. Insulting it thought, hmph, he gets mad easily.

"Sir," the bot would say to him, "I don't mean to insult, in fact I just want to know about you. You see, today I've seen a lot of powerful people, from Sado, to Alucard, Ikuru, and now you. Of all these people I learned little about them yet so much from them. I would like to change that with you." Then the bot would sit down cross legged and say to the powerful man. "You confuse me, as you dance from strict, to scary, from free, to constrained. Who are you. What do you want to tell us, and why do you care so much about me or my allies?"

The bot would say all this wide eyed, and truthfully interested in the man. Eager to know more about him, just as it was tasked: to learn about this marvelous world and all the people in it.