You must be registered for see images
Information
This FC is based on Akame ga Kiru! If you like the franchise and wish to discuss it feel free to join! In this Fan Club I would like people to share on who they like, and why and just talk about the show in general. Post pictures, banners, gifs and etc. However try not to spam too much. If you want to talk about manga spoilers write down the chapter number(s) on top first and then put the rest in spoiler tags. I hope you all have fun!
Synopsis
Tatsumi is a fighter who just got robbed by a pretty girl, but his luck seems to be looking up, as another pretty girl has taken him in. What he doesn't know is that this girl is about to be visited by a family of assassins (including the girl who robbed him) and they might be the good guys, and be recruiting...
✭ Main Characters ✭
Akame (アカメ)
Akame is one of the members of the Assassin's group, Night raid. She is the first member to attack Tatsumi, and comes very close to killing him. She initially appears very serious and cold-hearted, but she is actually caring and worries about the safety of her comrades.



Appearance and personality



Akame is young and beautiful, with long black hair, red eyes, and black clothes. She carries a sword Teigu with her named Murasame. She is girl who doesn't show much emotion. She initially appears very serious and cold-hearted, but she is actually caring and worries about the safety of her comrades.



Teigu



Akame's weapon of choice is Murasame. It is a poisonous blade that can kill a person with only one cut. Once the sword pierces skin, it injects a lethal poison into the victim, killing them within seconds.

--------------------
Tatsumi (タツミ)
Tatsumi is a swordsman from a small village. He set out to the capital with two of his companions in hope of raising money for the village. He got separated from his friends and reaches the capital. Tatsumi was not aware of the type of place the capital really was. After a series of events centered around his naivety of the true nature of the capital he found himself being saved be Night Raid (an Assassination Group).



Appearance and personality



Tatsumi is a young man of average height with medium length brown hair and green eyes. He is usually seen wearing a white, high collar jacket over a tan sweater vest, a pair of black pants and combat boot. Tatsumi gives off a kind, generous, level-headed and friendly vibe. Overall he displays great comradeship and great promise of being a skilled fighter.
----------------------
Mine (マイン)
Mein is a self pro-claimed "Genius Sniper", as well as being a sharp-tongued and quick-witted member of the assassin's group, Night Raid.



Appearance and personality



Mein is a petite young woman of below average height. She has very long hot pink hair that is tied in twintails on the right and left sides of hear head. She has big, pink eyes. She is often quick to anger, and easily irritated with those she does not know well. Despite her cold exterior, she has shown to be warm and kind to those she has opened up to.



Teigu



Mein's weapon of choice is Roman artillery: Pumpkin, an offensive gun-type Teigu. It seems to have a case with different parts in it, they can be detached and attached to modify Pumpkin. It fires using the user's emotions. Having a higher intensity of passion can make Pumpkin stronger.

----------------------
Wave (ウェイブ)
Wave is a member of the Jaegers who was introduced later on in the series. He is from a small town on the coast where he served in the Imperial Navy. Much like Tatsumi, Wave was unaware of the corruption within the Empire when he first joined the Jaegers.



Appearance and personality



Wave is a young man of above average height with short dark blue hair and eyes. He wears a blue jacket and a red scarf with an anchor on it, and a white shirt under it. He is a true navy man at heart and loves everything to do with the ocean. He is shown to be level headed and easy going in his free time and has a desire to be useful to his friends. Despite being with the Empire, Wave isn't evil as opposed to everyone else in his group.



Teigu



Wave's weapon of choice is the Carnage Incarnate: Grand Chariot. It is an upgraded teigu version of the Incursio, thus making them look almost identical. Much like Incursio, it is an armor type teigu, giving it's user a strong defense with increased speed and physical strength. However, it lacks the capability to go invisible similar to it's prototype.
✭ Special Mention ✭
Seryuu Yubikitas (セリュー・ユビキタス)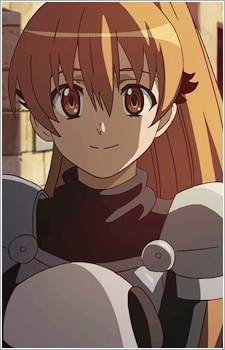 Seryuu is a member of the Jaegers, formerly of the Imperial Guard. She has a strong fixation upon "Justice", originating from her father's service in the Emperial Army and subsequent death.



Appearance and personality


Seryuu is a young woman bearing orange hair. She has a long ponytail that almost reaches the ground. She is typically seen in a military uniform in favour of dresses and casual wear. Although she initially appeared as kind and compassionate, Seryuu is cold, ruthless and unstable.



Teigu


"Hekatonkheires", also known as Koro, is a biological Teigu resembling a dog. It has the ability to grow larger and regenerates from damages.

❂ Owner ❂
Aya San
⚘ Member List ⚘
Fiddstx
AkatsukiChurch
Sir Blades of Chaos
~Puppet Master~
~Shiro~
Transcendence
blessed
Nocturnus
Spckoroma
Laassee
Bashkim
AlphaE20
Narutocentral
seventhboa
Ebisu
Mizuchi
Ezio..
AirBear
Namikun
Saby
-Uzumaki Naruto-
chad062388
Kirikoe
iNotorious
ZeroPro
carterpillar
minato93
Icelerate
Tim Jamison
Zexion~
The7thHokage
Parrish
Dio Brando
kazekaine
The PixieSlide Alchemist
Rivaille
DarthPenance
Emikơ
Versta
Akasuna
Klaus
CrossRoads
Keyboard Uchiha
TheAncientJinchuuriki
Asada
Tera Path
Interpid
Rainbow Dash
awesomeseimei
Vergil.
TheMist
Yami no Tensei
Great Master Minato
* Ban:
reizon
DarthPenance

If you want to join just tell me
Note:
Since the FanClub isn't the most active section this can be treated as an all-purpose Akame ga Kiru thread, it gives people a place to talk without the need to make a separate thread over the M.A.C Base.
For new readers I highly recommend catching up with the manga first before you go and take a look around. W e don't want to spoil you but there won't be spoiler tags and you might get spoiled.
​
Last edited by a moderator: