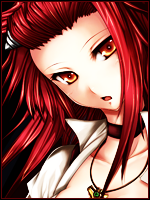 The Black Steel Rose
Supreme
King listened and it all came flooding back to him now. This was his sensei from way back before his time as the Fairy king. His early years, another life even. He was a different person back then, some may have called him Pervy, the world had a strange way of doing things, to think all these years later he would run into a familiar face like this. He took the cloth and wiped his face, replacing his sorrowful look with a kind one, a happy one, the confidence returning to him. He knew it was her, but now it seemed she had a skill even she didn't know she had, the powers of steel release. Caught off guard by this he almost didn't hear her mention the clan at all.

"Clan? Oh... yeah sorry... just a few...happy memories came back to me....those were hard times; the world seems a better place now. Though it seems you haven't really changed. What's it been, 6 years? Who knows...of course you can join the clan...like...we are just starting out...I mean I've known this guy....a week maybe? Not that that matters. Anyway, I want to build something new...not just a clan like the old times, not one of strength...not one of fighting....a clan that's a family...with bonds that go way beyond those of physical abilities...that's what will make us truly strong. The will to protect our own family.... What am I saying I'm getting side tracked..."

He laughed now, he was rambling, nervous, that's when he remembered...

"Oh... yeah... steel release.... you seem to have the basics... but there is so much to it...."

With that, king held out his right hand, his palm in the direction where Kurama manipulated the steel. As he did the steel chess piece rose out of her hand, but it began to change, it began to warp, began to flow, it became like an orb of water, bending, reshaping more following kings hand movements shooting through the air, like it was the softest thing in the world, but then he sent it down towards the ground, shattering it, then raising it up again...

"Steel is an extension of you, not just a tool... you need to think of it more than just a solid, a defense ... a weapon... it becomes part of you... and in times of need... it will aid you in ways you can't possibly imagine..."

With that the bending steel now burst like a bubble but from it a swarm of blades that surrounded king, with more hand gestures he sent them towards tree, cleanly slicing through a branch before returning to him, as they returned, they formed a sword in his hand, which he held out towards Kurama.

"Your true power will be your imagination.... let it flow...."

(Koton: Sui Ko) Steel Release: Fluid Steel

Rank: A
Type: Attack/Defense
Range:Short-long
Chakra Cost: 30
Damage Points: N/a
Description: This is quite a unique version of steel release using precise chakra control to execute it. The user will release their chakra into steel they control and change it's density. Unlike other jutsu this doesn't apply heat to do so, but instead an extreme chakra control while thinking of the flow of water release. It will almost look like mercury which is in it's liquid form and through this jutsu the user will control the steel. They will control it using hand gestures pushing the steel around in a fluid like motion, yet it will still be solid, just controlled like it's a fluid. This makes it easier to trap people, but at the same time this has another use.
Note: Useable 4 times, last 3 turns per use but only works on existing steel the user has made or is devoid of chakra.
Note: Changing the shape, direction and other control of a steel construct takes up another jutsu of the users per turn after the initial use of this.
Note: This does not effect the strengths and weaknesses of steel, it's just advanced shape manipulation.

[koton: Kudaketa hōyō] - Steel Release: Shattered Embrace

Type: Offensive/Supplementary
Rank: A
Range: Short - Long
Chakra: 30
Damage: 60
Description: This is a technique that can be used in two ways. It can be used on existing steel techniques or being releasing from the ground. What this does is, the user will release their chakra into existing steel they control or one devoid of chakra (old steel jutsu they have perviously made or another shinbobi, this doesn't include weapons and such shinobi might carry) , and in doing so will take control of the steel and cause it to break down into Hundreds of tiny blades that look like small dragon scales (1inch diameter) of steel near on instantly like the shattering of glass and from their control the blades through their hand gestures or through their weapon, these blades are extremely sharp.. These blades will move in a large swamp or smaller swarms depending on how the user wishes to control them using them to strike what they want. If they chose to use it from the ground they will form the blades of steel in the ground and then cause them to shoot up from within the ground in a huge swarm to attack which they wish. As long as the user controls these blades they will only be able to use steel and elements that make up steel and it will take up one of their three moves per turn. Not only this but the technique will always be A rank, even if they use this to break down one of their S rank techniques.

Note: Usable once every two turns, being able to control the blades for up to 3 turns.
Note: Using this from the ground would require a handseal to form.
Note: No jutsu above S rank while active

Note:

With this i am teaching my steel release customs to Akiza for her to use, but in a creative character manor, once done i'll post a thread in the cj training area where she has official permission to use them.
It's fine, King; enough with the tears now, my friend. Indeed, those were hard times for all of us; thankfully, the world seems to have...somewhat...learned from its past mistakes. And my boy, if I didn't change then, what makes you think I would now...aside from my appearance of course...feels more like 8 years if you ask me. But semantics aside...thank you, what you're proposing is exactly what I've been looking for, since as you can see...family and friendship is of great importance to me.
She responded, motioning to her uncle, Theoden.
Pay them in kind and your kindness will be returned back to you...
Kurama, you're too kind to your old fuddy duddy uncle....what you and King have done for San'indo....oh what a momentous occasion this is!
Taking out his own handkerchief, Theoden blew his nose.
It was at this moment Kurama noticed King take control of the chess piece in her hand, watching closely as he manipulated the steel to his will, relieving a nearby tree of one of its branches; the chess piece now returning to King as a sword, which she gladly accepted from him.
Amazing...but you owe me a new chess piece. Haha.
Note:
-Training in the NW-
permission reference:
You must be registered for see links
Last edited: