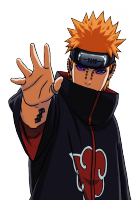 Legendary
lets be honest, Luffy got 1 shot because Oda needed the plot to go that way, if he needed Luffy to put up a bit of a fight, he'd do that. Kaido is probably going down at the end of this saga, be it 1v1 or 5v1, either way, if luffy loses to Kaido in 1 hit even when the plot doesnt call for it than both the 1 hot and the defeat of Kaido are just BS. and yes, once kaido goes downt he 1 shot will look stupid in retrospective
I'm not surprised that Kaido was able to do that, just look at how Big mom was able to suck the life force out of G4 BounceMan Luffy. I don't think it's far-fetched for someone like Kaido to one-shot Luffy, but it's not too crazy for Luffy to beat Kaido by taking advantage of some circumstances around him to win either like he's done in the past. Oda's fights always give the underdog the puncher's chance like any other realistic real-life fight situations, which is why Onepiece has such a good story telling to it.
Kaido may be way faster, durable, and stronger than Luffy but that doesn't mean he's as resourceful enough to take advantage of many people's weaknesses like Luffy has done in the past with Mizu Luffy, Nightmare Luffy, or his base form that utilizes ricochet strikes in cqc against high level opponents (Crocodile, Doflamingo, and Katakuri). Kaido is not flexible enough to do that so that makes his options to be very limited.
What's good is that we know that G3 is able to knock around Emperors in CqC if it lands and G4 transformations are also strong enough to smack down an Emperor as well. This is good because Luffy can work on these things. He can work on his speed to keep up with a physically fit Emperor (not a fat or old dying one) and he can improve on mastering his devil fruit's powers to help his recovery time.
This is good, Oda knows what he's doing.