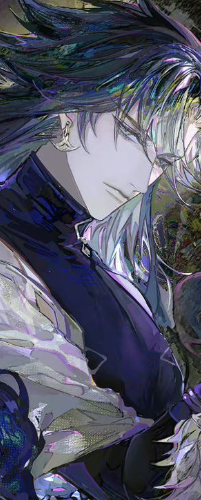 Legendary
Permission to submit Duel Monsters techniques:
https://animebase.me/members/daemon.27063/#profile-post-7518253
Training thread:
https://animebase.me/threads/eight-deva-paths-duel-monsters.764943/
(Dyueru Monsutāzu: Seinaru Baria ‐ Mirā Fōsu - ) Duel Monsters: Holy Barrier - Mirror Force
Type: Supplementary/Defensive
Rank: A
Range:Short
Chakra: 30
Damage:N/A
Description: Trap Card: When the user
(or an object attached to the user directly under his control)
, touches this card, a white barrier encompasses the entirety of the short range around the user instantly. This barrier known as Mirror Force, seals in coming attacks within its walls similar to Uchiha's return and then releases the attack in an outward explosion back towards the opponent. Due to the nature of this technique, the outward explosion would be equivalent in strength to the absorbed technique. After the technique is reflected back at the opponent, the barrier dissipates quickly. Mirror Force absorbed and reflect techniques up to and including S ranks. Note: Mirror Force can only be used three times per battle with a three turn cool down in between usages.
Note: When Seal of Orichalcos is on the field this card may absorb any amount of chakra as long as the techniques rank meet it's absorbption restrictions.
~Declined. Well, you put this here. What does this mean in this context? It's either filler text or too ambiguous. Take out the 'instantly' part. Also, replace 'strength' with 'rank' in describing the outward explosion. Also link to this Seal of Orichalcos.
( Dyueru Monsutāzu | Hyōkekkai no Ryū Torishūra) - Duel Monsters: Trishula, Dragon of the Ice Barrier
Rank: S
Type: Attack/Supplementary/Defense
Range: Short-Mid
Chakra: 40 (-10 per turn)
Damage: N/A (80 if the Dragon physically attacks a target)
Description:
When the user activates this card is first activated
it drains the environment (land, sea, or air) of any chakra within mid range of it up to A Rank in order to fuel its activation
. This chakra absorbed activates the script on the card which releases a barrier in the form of a large 3 headed dragon that spans mid range in size.
Once per
at the cost of a moveslot the dragon may unseal from a script in it's mouth a beam of condensed and molded chakra that works as a tether for its sealing ability. As the beam of chakra (up to 7 meters in area in terms of size) connects to its target, a script activates within the beam may seal away any infusion of chakra within the target up to A rank This ability may be used in the same timeframe as another technique by the user but not alongside another ability of it's own. In this case an infusion of chakra is any sort of chakra that has has entered/been bestowed onto the the opponent from an outside source. For techniques it is any
additional
amount of chakra that has been bestowed onto it before, during, or after creation. This ability may be used every other turn up to 3 times per battle. Trishula is capable of flight and may physically attack an opponent once per turn at the cost of a moveslot. Trishula may be summoned twice per battle with a 3 turn cooldown and lasts 4 turns. If Seal of Orichalchos is on the field the user may choose to instead take the effect of having it and its effects being unable to be affected by any sealing based abilities
~Declined. The first bold won't fly with all these abilities to boot. Get strategic with getting this on the field. Also, once per what? Also, if you wanna get into this legalese way of description I need a clarification on the definition of 'outside source', and I would inform you that if this tech only seals away additional chakra in techniques it'll only cancel boosts.
Last edited by a moderator: