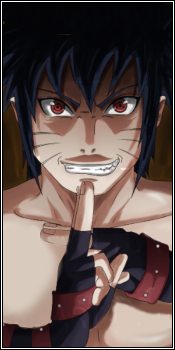 Legendary
---
You must be registered for see images
"If there's such thing as peace, I will find it. I won't give up!"
基本情報| Basic Information
Name| Uzumaki Naruto (うずまきナルト)
Nickname |Savior of this World; Child of Prophecy
Gender | Male

You must be registered for see images


Age |16
Clan | Uzumaki

You must be registered for see images
​
---
外観| Appearance
You must be registered for see images
As stated by Jiraiya, Naruto bears a striking resemblance to his father, having Minato's blue eyes and blond, spiky hair. From his mother, Naruto inherited the shape of both her eyes and face. During the Fourth Shinobi World War, Dan Katō initially mistakes him for Nawaki due to their stark resemblance as well. Naruto's most prominent physical characteristics, however, are the whisker marks on his face that he gained from Kurama's influence on him while he was in Kushina's womb.

Naruto's outfit undergoes modification after being worn to shreds during his training with Jiraiya. The outfit retains the orange colour as well as the white (without the tassel) and red swirls, but the jacket is much more form fitting with the blue parts changed to black and the colour extending from around the neck and shoulders, down the front and sleeves. The forehead protector has also changed with Naruto moving the metal portion to a new longer black bandanna and he wears black sandals instead of blue.



When he enters his Nine-Tails Chakra Mode, his body is covered in a yellow shroud of chakra, upon which his seal is clearly visible. He also gains a necklace of magatama around his neck. Finally his hair spikes up, with the two endmost locks resembling horns. After he and Kurama melded their chakra, his appearance changed once again. The shroud splits down the middle and opens up into a cloak that has a tattered appearance. The previously smaller 'horns' grow out larger, and his whisker marks become thicker. Underneath the 'coat', the magatama are still visible and he gains a new set around the 'collar' of the coat. Underneath this his seal changes once again opening out into circles instead of swirls. He also gains seals on his hands and feet. The cloak also has nine, tail-like appendages formed from the cloak and flowing from it with lines running down the middle of each
​
You must be registered for see images
---
Naruto is exuberant, brash, inattentive, and heedless to formality or social standings. He inherited his catch-phrase "Dattebayo!" (だってばよ!) from his mother, who would say "(da)ttebane" ((だ)ってばね) when excited or frustrated. He is also somewhat perverted, something he tends to be reprimanded for by Sakura Haruno and Iruka, but has only become even more so after meeting his mentor Jiraiya, causing many to say that Jiraiya raised a perfect replica of himself. However, whenever someone dear to him is in trouble or the situation calls for it, Naruto can be very serious, and will instantly try to come to their aid.

According to Kakashi, Naruto learns through his body, as he is relatively naive, simple, and being slow to understand a principle or situation, which often requires an oversimplified analogy in order to grasp what is being explained to him. Overall, Naruto responds best to competition and has a great deal of self-confidence, loudly proclaiming that he will master whatever technique he is learning within a fraction of the usual time, though he doesn't hesitate to ask for help if he needs it. While as naive as he appears to be throughout most of the series, Naruto has proven to have a keen eye to certain things most people don't see, showing that he can be smarter than what most people, especially Sakura, are willing to give him credit for when he wants to be, something even Chōji comments on once in a while.
You must be registered for see images
---
You must be registered for see images
ランクチャクラ| Rank//Chakra Info
Ninja Rank
:
Jonin
Health Points: 160
Chakra Points: 2600
Specialties:
---
Shadow Clone Specialist:​




You can have Shadow Clones and variants that return up to 50% more chakra when dispersed. This also allows you to create 1 more Shadow Clone than normal.

Advanced Combat Specialist​




You are capable of increasing your freeform Tai/Kenjutsu damage to 15.

Apex Clone Specialist:​




Limited to Ninjutsu-related Specialties. You can have Shadow Clones and variants that return up to 75% more chakra when dispersed. This also allows you to utilize the Forbidden Shadow Clone jutsu without requiring Kinjutsu.

Sage Master:​




The user is able to enter Sage Mode passively, no longer counting towards their allowed moves per turn OR the user is able to gain 20% more chakra when entering Sage Mode. // Naruto Uzumaki bios are able to instantly activate with 20% of their maximum reserve and up to 50% of their reserve. He is also able to use Sage Mode with his Bijuu Modes, the effects stacking together barring speed increases.

Assassination Fist CFS:
Users of this style gain +4 boost to their base speed and gain a cloak of dark nature chakra of their own color when under the style's influence.​
Nine Tails Jinchuuriki​
Kurama has an enormous supply of chakra compared to even other Bijuu and Jinchuriki. Due to his massive chakra pools, the Jinchuriki gains an additional 1000 chakra.

Kurama is unique in that he has alternative Incomplete/Complete Modes that covers his Jinchuriki in golden chakra and black seals when incomplete and in complete form it changes into a golden Kyuubi with even more black seals, respectively deemed Nine Tailed Chakra Mode and Tailed Beast Mode.

Complete mastery over the Wind and Fire elements without the use of handseals in the Tailed Beast Mode.

The ability to sense the "evil" intent in people when in all chakra modes, no matter how good the opponent is disguised or hid his chakra, over incredible large distances, sensing beings entire countries away ( up to 5 landmarks away ).

The ability to shape the chakra around him of all chakra modes to create chakra arms that can extend very far, for a variety of techniques, mainly Rasengan variations or create a large arm that can be used to throw heavy boulders.
土遁, Doton
火遁, Katon
雷遁, Raiton
水遁, Suiton
風遁, Fūton
漿遁, Purton
業火, Jigokuton
漿遁, Pursmaodoton
Mundasuton
蝦蟇, Gama
白澤, Hakutaku
忍術, Ninjutsu
剣術, Kenjutsu
体術, Taijutsu

​

タ

COMPLETED
タCOMPLETED
タCOMPLETED
タCOMPLETED
タCOMPLETED
タCOMPLETED
タCOMPLETED
タCOMPLETED
タCOMPLETED
タCOMPLETED
タCOMPLETED
タCOMPLETED
タCOMPLETED
タCOMPLETED

​

幻術, Genjutsu
隼, Bijutsu
体術, NB Taijutsu
体術, Satsui no Hado
体術, Drunken Monkey Fist
体術, Bullet Arts
体術, Infinite Sword Style
体術, Way of the Barrier
封印, Fūinjutsu
禁術, Kinjutsu
医療, Medical Ninjutsu
仙人, Sage Mode​

タCOMPLETED
タCOMPLETED
タCOMPLETED
タCOMPLETED
タCOMPLETED
タCOMPLETED
タCOMPLETED
タCOMPLETED
タCOMPLETED
タCOMPLETED

タCOMPLETED




タCOMPLETED

​
You must be registered for see images
​
You must be registered for see images
---
背景情報|Background Info
History:

A complete history of Naruto Uzumaki can be found

You must be registered for see links

.



Naruto was born as the son of the Fourth Hokage, Minato Namikaze, and Kurama's second jinchūriki, Kushina Uzumaki. Naruto's parents named him after the main character of Jiraiya's first book, thus making the Sannin his godfather. Prior to Naruto's birth, his parents and the Third Hokage Hiruzen Sarutobi feared that his birth would break the seal which kept Kurama in Kushina. The plan to ensure it did not occur was for Kushina to be taken to top-secret location outside the village with with Biwako Sarutobi and Taji as her midwives, a few ANBU as security, and Minato to keep the seal in place. However, word of Kushina giving birth reached a masked ninja who intended to take the Nine-Tails for his own evil ends. Killing the midwives and ANBU, the masked man took the newborn Naruto hostage to keep Minato steps away from Kushina so the seal can be shattered.



Though Naruto was taken safer location, the masked ninja succeeded in releasing Kurama and used the monster to devastate Konoha. Saving Kushina, Minato leaves Naruto with her as he heads off to save their village. After severing the masked ninja's control over the tailed beast, Minato realises the only way to stop Kurama is to seal it within Naruto, believing that his son would someday have need of the beast's power to defeat the masked ninja when he returned. However, sacrificing his soul to weaken Kurama, the sealing process took both Minato's life and Kushina's when they took a fatal blow from the Nine-Tails meant for their son. Suddenly orphaned, Naruto was left to grow up knowing nothing of his parents, receiving only his mother's last name as Hiruzen believed it was best that nobody knew that he was related to the Fourth Hokage.





You must be registered for see images





Despite Minato's final request to Hiruzen for the villagers to see Naruto as a hero who had helped defeat Kurama, only the Third Hokage and a few of the villagers honoured his request. Everyone else instead resented him for containing the monster that had destroyed their home, some even seeing him as the Nine-Tails itself. Furthermore, Hiruzen created the decreed to prohibit any mention of Naruto's nature as a jinchūriki in the hope that the other children would not resent him. However, even without knowing the reason, most of the children followed their parents' example and ostracised Naruto.The social isolation would cause Naruto to develop a need to be acknowledged through mischief.



When Naruto was enrolled into the Academy, he became the student of Iruka Umino and met his class mate Sasuke Uchiha when the two were pair to spar against each other. Though excited at the chance to achieve popularity by beating Sasuke, Naruto was easily beaten. By looking at Sasuke's eyes, Naruto realised that they were filled with hatred. When Iruka told them to make the reconciliation seal, they both refused. Since then, Naruto came to see Sasuke as a rival and intended to beat him. When Naruto found out that Sasuke was also an orphan, he was secretly happy for not being the only one alone and wanted to talk to him, but couldn't because of his jealousy toward Sasuke's skills. Still, Naruto wished that, someday, Sasuke would acknowledge him as an equal.
You must be registered for see images
---
---
---
At the start of the series, Naruto's ninja skills were either average or sub-par, as seen from his inept ability to perform a basic Clone Technique. One of the only techniques he could do without fail was the Transformation Technique, and his own original variant of the technique called the Sexy Technique; a creative, but almost completely useless diversionary technique. Throughout Part I, he learns a number of short-range techniques, which are expanded upon during his two-and-a-half years of training with Jiraiya. Naruto also improves his knowledge of other ninja skills while under Jiraiya's tutelage, using more taijutsu and shurikenjutsu than he did in Part I. He also learned how to dispel genjutsu and despite his limited skill with it he was able to resist being put to sleep by Itachi Uchiha, a genjutsu master. During Part II, he starts to master longer-range techniques, such as the Wind Release: Rasenshuriken and the Tailed Beast Ball.
​
​
In Part I, Naruto was regularly noted to have a great deal of potential by among some of the strongest ninja like Kakashi, Kabuto, even the Sannin, proving himself as a very late bloomer. Iruka remarked that Naruto could surpass all of the other previous Hokage when he saw him use the Multiple Shadow Clone Technique. When Orochimaru saw him defeat Kabuto, he tried to kill Naruto for fear of what he would become. Much of this potential manifests itself during Part II, regularly proving himself a match for the S-rank members of Akatsuki. His victory over Nagato's Six Paths of Pain has earned him great accolade in the ninja world: Konoha villagers now even believe he is Hokage material after they hear about it, thereby earning status on par with other renown ninja within Konoha. Zetsu, after seeing the battle, even suggests that Naruto has become stronger than Sasuke, who also showed similar improvement against Akatsuki members. Naruto also gained the acknowledgement of other immensely powerful individuals such as Kurama and even Madara Uchiha. With further training and control of Kurama's power, he is even able to hold his own against Kage of both the previous, and current generation on the battlefield.
​
​
During the Fourth Shinobi World War, Naruto received some chakra from the other tailed beasts, excluding Shukaku and Gyūki; the effects of these gifts are currently unknown.
​
Taijutsu
You must be registered for see images
You must be registered for see images
You must be registered for see images
You must be registered for see images
​
Naruto has always been at least passable in taijutsu, ever since the Academy where he received a B in that class. Throughout Part I, his taijutsu slowly improved, where it was first showcased in his battle with Kiba Inuzuka in the Chūnin Exams preliminaries where he was able to hold his own and avoid multiple slash attacks from Kiba and Akamaru's Four Legs Technique without the aid of his shadow clones and then defeat him with Naruto Uzumaki Combo. A testament to his skill with taijutsu was shown when Naruto was fighting against Neji Hyūga's Gentle Fist techniques in the Chūnin Exams, where he got into striking distance using only hand-to-hand combat. After the time skip, Naruto's taijutsu improved greatly under the tutelage of Jiraiya where he could hold his own in hand-to-hand against several shinobi skilled in taijutsu such as the Deva Path, Kakashi Hatake, and Yamato, and disarm adept kenjutsu users such as Karui. Throughout the series, Naruto's taijutsu continually improved, eventually learning the Frog Kata style from Fukasaku. In Sage Mode, he was able to beat the Deva Path twice in taijutsu, the first time sending it flying back with a roundhouse kick and the second time disarming it of its chakra disruption blade and sending it crashing into a boulder with a single kick. After deducing the weakness of the Third Raikage, he was able to use his sensory and Frog Kata skills to outmaneuver the former and turn his own attack against him. While in Nine-Tails Chakra Mode, he was also able to block several of A's immensely strong punches despite being intercepted several times.
​
​
[On top of his taijutsu skills, Naruto has shown a high level of physical strength. During the Chūnin Exams, he stopped a charge from one of Orochimaru's giant snakes albeit while using Kurama's chakra. During his senjutsu training in Part II, he was able to budge one of the huge statues without using the special oil. After the training, he could shatter stone with his raw strength, as seen when he escaped from the petrified Preta Path after it absorbed too much of his senjutsu chakra. His strength is increased to such a point in Sage Mode where he can toss not only the Animal Path's Giant Rhino after stopping its charge, but Kurama itself. He can also shatter sharp objects with his bare hands, such as the Deva Path's chakra disruption blades, with relative ease. In Nine-Tails Chakra Mode, Naruto becomes strong enough to push a fully formed Tailed Beast Ball through a multiple layered barrier with just one arm, neutralize White Zetsu with a single kick despite their durability, and, in collaboration with B in his full Eight-Tails form, he could also knock down Tobi's Demonic Statue of the Outer Path with an uppercut.
​
​
Naruto has also displayed impressive speed over the time skip as well. When confronting Sasuke after the Five Kage Summit, he saved Sakura from her own poisoned kunai which Sasuke wielded to stab her and received only a shallow cut in exchange. Naruto was then able to restrain Kakashi while charging up a Rasengan, meeting Sasuke's Chidori charge and equaling it. While in Sage Mode, Naruto's speed increases greatly to the point where he could intercept the Asura Path, which was using its chakra boots before Nagato could complete his sentence or attack Tsunade. He was even able to avoid the Third Raikage's Nukite at near point blank range and retaliate with a Rasengan after meeting his charge. Naruto's speed is at even greater heights, while in his Nine-Tails Chakra Mode, where Killer B even had trouble determining if he used the Body Flicker Technique when attacking Kisame Hoshigaki, who was hidden in Samehada. In this form, Naruto was able to even surpass the speed of a fully charged A, who was currently the fastest shinobi in the world after Minato's death. Both Naruto's speed and strength are at their greatest however, while in his Tailed Beast Mode, where he could deflect multiple Tailed Beast Balls at point blank range while remaining completely undamaged, and also to the point where Kakashi mistook him for his sensei.
​
Jinchūriki Transformations
The Narutobase Jinchuuriki Rules can be found here.
You must be registered for see images
​
As Kurama's jinchūriki, Naruto's chakra reserve is greatly enhanced to enormous levels, which Kakashi estimated to be about a hundred times greater than his own when its influence is not suppressed. It also gives Naruto accelerated healing (recovering from minor injuries within seconds and major injuries within a day). Also, depending on the amount of Kurama's chakra he's using, Naruto is given an increase in strength, speed, and his healing factor are pushed to such levels that he completely recovered from a Chidori through his chest in mere moments with no lingering signs of injury. At times, he is also granted a fox-shaped chakra shroud with massive invulnerability, being able to resist being pierced by Orochimaru's Sword of Kusanagi, a sword known as being able to cut through adamantine, and is completely undamaged by the alkali substance excreted by Saiken, which was able to damage Gyūki and disintegrate its surroundings rapidly.
​
​
The seal had allowed a small amount of Kurama's chakra to always mix with Naruto's own. In Part I, Jiraiya once stated that Naruto's body was much too small a vessel to properly contain Kurama's overwhelming chakra, and his body would instinctively reject the bulk of it due to the damage it could cause. Both Kakashi and Ebisu also implied that Naruto's poor chakra control stemmed from this, as a portion of his chakra was used in attempt to suppress Kurama's own.
​
​
Kurama's chakra first came to Naruto during life-threatening situations, given to him by the fox itself to ensure its survival, but after training with Jiraiya, Naruto learned how to contact Kurama and demand some of its chakra. Alternatively, Naruto could give into his anger or frustration, allowing Kurama to force its influence upon him. Depending on how much he gained, Kurama's influence within its chakra could make Naruto lose control of his senses, devolving into an animal that attacks anything within reach, as well as damaging his own body, slowly shortening his lifespan. Although a number of methods had been devised to break its influence over Naruto (Jiraiya's seal tag, and Yamato's Hokage-Style Sixty-Year-Old Technique — Kakuan Entering Society with Bliss-Bringing Hands, which was facilitated by Hashirama Senju's necklace Naruto wore before its destruction), Naruto simply limited his use of Kurama's chakra, and tried not to allow his anger get the better of him, but he eventually attempted to exercise more control over it, in which he was able to achieve during the Fourth Shinobi World War.
​
​
The Nine-Tails Chakra Mode is a form that Naruto gained after he separated and sealed Kurama from its chakra. In this form, Naruto exhibits exceptional speed and strength. Like his predecessor, Mito Uzumaki, Naruto also gains Kurama's ability to sense negative emotions, something that not even the best sensor-type ninja can do. Naruto can even use the shroud to create chakra arms that he can use for greater range of attacks as well as giving him greater dexterity and manoeuvrability to his fighting style without the use of shadow clones. The power of his techniques become so great that unless they already have some inherent durability, like the Third Raikage, reincarnated shinobi have a hard time regenerating.
​
​
Naruto eventually gained Kurama's cooperation and has access to its full powers, becoming one of the rare individuals, jinchūriki or otherwise, to succeed having complete control over the tailed beast's power. When they meld their chakra together, Naruto is able to enter Tailed Beast Mode as he gains access to a new chakra shroud as well as the ability to create a tailed beast-cloak both of which forms has shown feats of tremendous speed and power. He can release a powerful shock-wave that is strong enough to knock back five fully transformed tailed beasts at once.He is also able to use the Tailed Beast Ball himself. His skill with the Tailed Beast Ball is high enough that he could aim it perfectly at the bottom of the combined Tailed Beast Ball Tobi's controlled beasts made to send both flying into the air and explode. He could also use his tails as chakra arms, making a Nine-Tails Chakra Mode shadow clone in each to attack multiple targets at once. Also like Killer B and Gyūki, Naruto can perform a barrage of Tailed Beast Balls at a single target. In this form, Naruto can perform partial transformations, such as manifesting a giant chakra arm or Kurama's head to block an attack or to fire a Tailed Beast Ball.
​
---
Senjutsu | Summoning Technique
You must be registered for see images
​
Naruto was first taught how to use the Summoning Technique by Jiraiya. After allowing Naruto to sign the summoning contract with the toads of Mount Myōboku, Jiraiya took Naruto through the execution of the technique in order to provide Naruto with allies in future battles. Additionally, Jiraiya's other motivation to teaching Naruto how to summon was to help Naruto to realise and take advantage of Kurama's chakra.
​
​
The type of toads that Naruto can summon at any time is proportional to his chakra and skill, as when he first started out he could only summon tadpoles. At first, Naruto had a hard time getting any specific toad, as he summoned either Gamakichi or Gamatatsu. When he used Kurama's chakra, or when he was truly motivated, Naruto was able to summon the toad boss, Gamabunta. Naruto is also capable of summoning Gamahiro to use Summoning: Food Cart Destroyer Technique.
​
​
With the strength of his chakra being so high, Naruto's training was able to expand to include the same senjutsu arts of his late sensei Jiraiya. He learned this in Mount Myōboku, showing an even higher aptitude for it than Jiraiya and ultimately learning how to perfectly enter Sage Mode. In order to achieve this, Naruto had to learn to sense and then gather the natural energy around him and perfectly balance it with his own chakra. Once mastered, Naruto was able to perfect the Rasenshuriken, so that he could throw it, and learn Frog Kata: a taijutsu style that uses the natural energy around the user to enhance the range and the potency of their attacks. In Sage Mode, Naruto's overall physical abilities are dramatically enhanced to the point where he could throw entities much larger than himself with little to no effort, including the Animal Path's Giant Rhino and Kurama. He can even shatter sharp objects with his bare hands, such as the Deva Path's chakra disruption blades, with relative ease. Using Frog Kata in the anime, he was able to completely overpower the Nine-Tailed Naruto Clone, even stripping him of his "Version 2" cloak with each of his punches. His durability increased to the point where he could fall on a bed of spikes and not even be damaged, as well as surviving the Giant Rhino's charge despite it tearing up the land behind him with its impact. His speed increases to the point where he was able to intercept a charging Asura Path, which had been using its chakra boots to attack Tsunade, create a Rasengan and slam it down before it could even react, showing him covering a considerable distance in a short amount of time. Also while in Sage Mode, Naruto gains a sensory ability to detect and identify other people's chakra even from very long distances away. This enabled him to be able to gain a sense of what was going on during the Fourth Shinobi World War, on battlefields a considerable distance away. He also attempted to use this mode to gauge the power of the Ten-Tails, only to find out that it was immeasurable. His sensing abilities have also enabled him to predict the movements of his enemies for easy retaliation. With his sensing abilities, he could pinpoint the chakra receivers that were on Tobi's tailed beast Six Paths of Pain.
​
​
However, Naruto had two flaws in his senjutsu training: To mould natural energy, the user must remain absolutely still, something one cannot do while in combat; and because of Kurama, Shima and Fukasaku were unable to fuse with Naruto to mould it for him. To counter this, Naruto had to leave two shadow clones in a safe place to mould the natural energy for him. Once he depleted his current amount of senjutsu chakra, he would dispel one of the clones and use the natural energy it had gathered to re-enter Sage Mode. However, this method limits the maximum number of shadow clones that Naruto can create to five. Any more would interfere with the focus of the clones' gathering natural energy. However, this limit in shadow clones ceases should Naruto decide to go all out during a fight and forget having any clones store natural energy for him. Also, Naruto had been training to extend the time he could remain in Sage Mode. His skill with Sage Mode has increased greatly to the point where he can now enter it in a shorter span of time.
​
You must be registered for see images
You must be registered for see images
Theme Song and Background Music:
Battles
Won:



Lost:
​
Approved
Last edited by a moderator: