Warning: As the show is ongoing, please keep in mind that there will be spoilers on social media, this thread (outside of the OP), etc.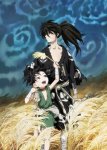 ​
Watch the show here if you have Amazon Prime!
Follow the official Twitter account here!
Director
: Kazuhiro Furuhashi
Script Writer
: Yasuko Kobayashi
On January 7, 2019,
Dororo
, the second adaptation of
Osamu Tezuka's manga from 1967-1969
, premiered on Tokyo MX, BS11, and Jidaieki Senmon Channel in Japan and on streamed worldwide on Amazon Prime Video. The anime follows a swordsman who was, right before his birth, cursed by demons due to his father, Lord Daigo Kagematsu, deal with the demons to give up anything in exchange for power and prosperity to his nation, having literally everything stripped away from him. Over a decade later, orphan Dororo encounters a mysterious swordsman whose body is mostly made up of prosthetics and set off in an adventure with him.
This show is a joint production by MAPPA and Tezuka Studio, the former known for critically acclaimed works by
Yuri!! On Ice
and
In This Corner of the World
. No word has been given on how many episodes this show will run (but if someone has the definitive count, please correct me).
As someone who is a fan of Tezuka's work, I am excited to see a faithful adaptation of the manga that preserves the series's grittiness to its core. My hope is that the show succeeds and leads to a wider discussion of Tezuka's work in general.
Last edited: