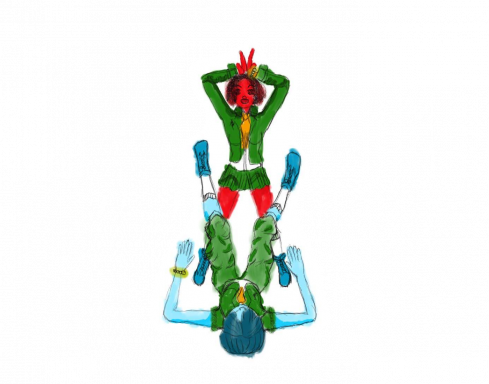 Veteran
| Offical
| Dojo, approx 30 meters wide, no obstacle within dojo, Dojo is smack down in the middle of a forest. With a pond source 10 meters away from the dojo itslef.
| Mid Range
| Zen Bio in Sig
Zen had absolutely no interest in a battle with some stronger shinobi. He absolutely despised it! His masters knew this but sent him to this place anyway. Zen didn't have any intention of actually putting his all in this or given the least bit of a damn, but his masters knowing this, also added that if he lasted long enough he would get a good deal of money. Not like money interested Zen, he could care less but he did need it if he wanted to buy a retreat on a island he saw on the map.

Men. This'll be scary. I wonder how long they want me to battle...

Upon his opponents arrival, Zen would draw his sword slowly, then close his eyes. The world would turn dark but that didn't matter to him, he liked it that way. This way no matter what the enemy would look like during their battle it wouldn't matter to him. It was his little trick he used to overcome his fear of not only the blade but blood, scary faces, angry eyes and... anything that came with battle. Without that fear and his sword drawn it was only then when he could truly, barley, shine. An electric aura would spark around him, forming a coat of armor at its most basic level around him.
(Raiton Chakura Mōdo) - Lightning Chakra Armor


Type: Supplementary/Offensive
Rank: S
Range: Short
Chakra: 30 (-10/20/30 chakra per turn)
Damage: N/A
Description: The user wraps their body in a layer of lightning chakra which, instead of being used offensively, is used to electrically stimulate their nervous system. The technique speeds up neural synapses reaction time, and pushes physical prowess to the absolute limit allowing for tremendous raw speed. The technique has different levels of activation each visibly depicted by the users hair which stands up when the technique is activated to the fullest. The higher the level, the higher the speed the user can achieve. This mode, combined with taijutsu, allows the users to utilize nintaijutsu. When using the armor at full power, it causes the tips of A's hair to spike up and his reflexes are said to be comparable to those of Konoha's Yellow Flash, making it difficult even for the Sharingan to keep up with him. Despite the large quantity of chakra it releases and uses up, the armor doesn't damage enemies who touch it, leaving the user able to interact with those around, allies or enemies as well as tools, weapons, etc.
Level One: The base activation of the mode, the user's speed doubles and he gains a x2 speed boost. His Taijutsu increases as well, by +20 damage. This state can last up to 4 turns.
Level Two: The most commonly used state and the one generally referred to, this activation causes the user's hair to slightly raise upwards as his speed increases x3 speed. This likewise increase his strength +10 more than level one. This state can only last 3 turns max each usage.
Level Three: The highest level of the Lightning Chakra Armor, the user uses this state to increase his reactions and speed to the max, gaining a x4 speed boost and a +40 damage boost to Taijutsu. The users speed increases to a point where only the highest Gates, Jinchuriki modes and instant techniques outstrip the user in terms of speed, appearing as a blur to most targets. This state however, only lasts 2 turns, after which the mode in it's entirety cannot be accessed for at least 4 turns.
Note: Level Two can only be used three times max each event and Level Three can only be used twice, during which only Taijutsu and Lightning may be used exclusively.
Note: Can only be used by the 3rd and 4th Raikages.


Following the coat's creation he would dash at the his opponent:
(Chiratsuki Kaihi/Undō) Flicker Evasion/Movement


Type: Defensive
Rank: A
Range: Short-Long
Chakra: N/A
Damage: N/A (+20 when used with a Taijutsu move)
Description: Using the amazing abilities of the Lightning Armor technique, both the 3rd and 4th Raikages are able to move at insanely high speeds to dodge or evade incoming attacks, even those that would normally be unavoidable such as Amaterasu. This fast movement can also be used in conjunction with a Taijutsu move, including their own signature Lightning based Nintaijutsu moves, to use the momentum one can gather and add even more damage if the move allows it. The technique also alows the user to move in more elaborate patterns that one would think, although following a more or less linear path. The only weakness of this technique is that, since its purely fast and enhanced movement, you cannot use it in all battle grounds but only those that would otherwise enable its use. Not only that but although the user moves fast, he is still trackable by high Doujutsu users (3T, Byakugan and Rinnegan), Sensors and EIG Masters. This doesn't mean the opponent can react (that depends on his speed, mastery of taijutsu and techniques used) but rather that he can perceive the attack.
Note: Only useable once per turn by Third and Fourth Raikage bios with their Lightning Chakra Armor active.


With a lightening charge of energy focused in his sword instead of his hand he would slice the opponent causing an electrical explosion upon the man.
(Raiton: Sanda Appu) – Lightning Release: Thunder Up


Type: Offensive
Rank: A
Range: Short-Mid
Chakra: 30
Damage: 60 + 20 = 80
Description: The user concentrates a lot of lightning chakra into their hand, compressing it into a ball of lightning energy. The user can then hurl it at the enemy or trust it forward in a melee attack. Once the ball hits the target, it expands into a massive lightning explosion.
---

Chakra: 1400 - 30 - 30 = 1340 | Health: 125
Speed: 6 x 2 = 12

@MCUser