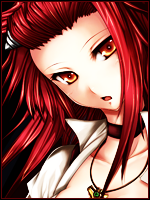 The Black Steel Rose
Supreme
---
"
The Black Rose
"
Basic Information
​
➥

Name

:
Akiza
➥

Nickname

:
The Black Rose
➥

Gender

:
Female
➥

Age

:
18
➥

Clan

:
Uchiha
​
---
Appearance
​
Akiza is a teenager of average height. She has fair skin, brown eyes, and dark burgundy hair. Her hair is mostly chin-length with the addition of long, elbow-length bangs that frame both sides of her face. She rolls her front bangs with a device similar to a hair curler on top of her head, which helps her restrain her powers, while a bit hangs down on each side.

Her wardrobe appears to have Victorian influences, but also bears resemblance to uniforms that were worn by female military generals during the 1980s. Akiza wears a low-cut red corset with short, light green puffy sleeves and a high collar. She also sports a sleeveless magenta trench coat that flares behind her which is shorter and pleated in the front. She wears a red choker and an emerald crested, golden cross-shaped medallion, as well as a pair of dark, elbow-length gloves with a pair of gold bracelets above them. Her stockings are the same color as her gloves, and are connected to her skirt and she wears red high-heeled pumps/sandals with them. She is easy to spot, if not by the way she looks, but by the Black Rose Blade, IOSS Scroll, and Palutena Twin Swords/Bow she carries on her back and waist.​
Personality
​
Initially, Akiza was very insecure and unsure of herself and had a very cold and distant demeanor, a result of spending years being treated as a monster due to her Uchiha heritage. She viewed everyone around her as her enemy and eventually stopped caring about other people's feelings. It wasn't until Sayer showed her compassion that Akiza began to have hope in her life again. Despite this new feeling of self-worth from Sayer, Akiza's rage at the world continued to grow, which Sayer intentionally drove her towards. After meeting Yusei, Akiza began to question the path she took of distancing herself from normal society. Finding conflicted emotions between both Yusei and Sayer's words, Akiza began to lose her focus and by extension her performance began to slip. When Sayer "died" and Akiza lost her last "place" to turn to, her parents, the people who unintentionally drove her down her hate-filled path, showed how sorry they were for their mistakes and wanted her back with loving intentions. With assistance from Yusei this allowed Akiza to finally find peace and be willing to join normal society again.

After joining Yusei and his friends, Akiza's demeanor has become much more caring, sweet, brave, heroic, kind-hearted, and valuing of true friendship, and she has become more eager to help those close to her whenever possible. Over the years Akiza showed these traits, traveling the world, training many in the ninja ways, countless even, while still being feared as the Black Rose due to the powers of her Mangekyo Sharingan.

​
---

[TD="width: 225"]

Village of Birth

Land of Fire​

[/TD]
[TD="width: 225"]

[/TD]
[TD="width: 250"]


[/TD]
Rank & Chakra Information
​

[TD="width: 130"]

Sage of the Sharingan

Fire [One handseal]
Water [One handseal]
Water [Sourceless]
Sharingan/MS




[/TD]
[TD="width: 155"]

火 Fire Release
風 Wind Release
土 Earth Release
水 Water Release
土 Lightning Release
水 Cloud
水 Rain
土 Plastic
土 Root





[/TD]
[TD="width: 130"]

忍 Ninjutsu
幻 Genjutsu
体 Taijutsu
剣 Kenjutsu
体術 Infinite One Sword Style
忍 Fuuinjutsu
陰 NB Taijutsu
幻 Mangekyo Sharingan



Other


関 Customs ➟ [X]



[/TD]
[TD="width: 130"]

Summons

四 White Tigers

四 Giant Hawks

四 N/A

[/TD]

[/TD]
Additional Information:
-You can perform techniques of Fire and Water by performing a single ( 1 ) handseal, that is still double-handed except when specifically stated otherwise in the technique. This can be applied to Advanced and Custom Elements that are composed of basic elemental affinities.
- You can materialize water release without needing a source. Likewise, you can sustain creations of the element without limiting yourself, such as creation of S rank Earth Golem and allowing it to exist without sustaining it on your own. This is done by adding 1 hand seal to the necessary total
---
History
​

In her youth, Akiza was a sweet girl who loved her father, Hideo, but because of the nature of his work was unable to spend much time with him. Akiza later attended a small Ninja Academy as a young girl, where she inadvertently caused more accidents due to the instability of her chakra. As her classmates and family came to fear her, she became more isolated, and acquired the persona of "The Black Rose". As a teenager, more and more people despised her, so she left her village in hope to find a new home that would accept her and her strange inability to control her chakra. Through her travels, she learned many different ninjutsu and how to control her chakra better, but no ninja village would accept one as unusual as her.

She even learned Rain jutsu from the legendary Ninja Hanzou, but he would not let her stay. One night, she was crying in the rain while sitting on the bridge to Namigakure, and Namikage Gatsndshanks asked her, "Why are you crying?" Akiza answered, "I've been traveling for so long, sir, and no village has come to accept me for my unusual talents." Namikage-san then said, "Come with me, to my village, and we shall provide you what you desire." Akiza nodded, and followed Gats into Namigakure, where she now resides. After a while in Namigakure, with it becoming an inactive village, she went on to travel the world further, and met the Kusagakure No Kaizer, Goro Kaguya, and joined him to meet Kusa's ideals: to kill everyone who stood in their way and gain ultimate power through the jinchuuriki. Akiza was very pleased to serve someone as diabolical and powerful as the Kusagakure No Kaizer. After a while of Kusa's reign over the ninja world, Goro stepped down due to inactivity, and so Akiza went on to travel more, where she met up with Alucard and Emperor.

She resided with these two for quite some time while she developed and honed her skills, though at the same time, her eyes would spread fear through her mastery over the Mangekyo sharingan. Though she aquired a new passion, that for teaching, she would go on to attain many students, from Kaito, to Vergil, to even The Pervy Sage, she trained more people than you could count, inspiring a generation...



​
---
Sealing Methods:
Akiza, having mastered the usage of sealing methods, has incorporated the usage of sealing techniques within her fighting style and as such applied several sealing methods on her body. Such as the Lightning Blade creation seal which he has two seals on either wrist where he can summon Fuma shuriken, wind mill shuriken and smaller variations of shuriken.
(Kuchiyose: Raikō Kenka) - Summoning: Lightning Blade Creation
Rank: B-Rank
Type: Supplementary
Range: Short
Chakra cost: N/A (-5 per tool/weapon)
Damage points: N/A
Description: This is a special "ninja tool summon" that allows the user to seal basic ninja tools, like shurikens, kunais, swords, etc into sealing marks placed on their clothes or their body. The ninja tools can be summoned in an instant just by touching the sealing "marks". The greatest advantage of this technique is that the time between taking out a ninja tool, taking the right stance and actually throwing it is greatly reduced and one can unleash a barrage of weapons with great speed in a small time window. Also when a weapon such as a Fūma Shuriken is summoned, the time needed to throw it can be further shortened by having prepared the weapon in fully extended form beforehand. Sasuke even shown that you can have the weapons connected to wires and linked to their sealing marks and used the technique in sealing marks he placed in his wrist bracers.
Note: Can summon up to 30 basic tools per sealing mark and can have up to 2 sealing marks
( Ura Shishō Fūinjutsu ) - Reverse Four Symbols Sealing Technique
Rank: S-Rank
Type: Offensive
Range: Short – Mid
Chakra cost: 40
Damage points: 80
Description: This is a sealing jutsu that is placed upon the users body, setting it to activate on the users death. It seals everything within a large, nearby, spherical into the users body.
Note: Can only be activated upon the users death.
Note: The placement of this seal must be stated on the user's biography.
Custom Weapon: Palutena's Twin Swords/Bow:
(Senshu Tsuin Heika Palutena) : Palutena's Sacred Bow/Twin Swords
Rank: S
Type: Atk/Def/Suppl
Range: N/A
Chakra Cost: 40 + 10 for each ability used
Damage: N/A
Description: An interchangeable weapon, shining but also a furious bluster of wind as it strikes down. The Sacred Bow/Twin swords of Palutena, mighty as it's name.
Palutena's Sacred Bow/Twin Swords were created by an elderly monk, in honor of a legendary goddess. He made it both indestructible and interchangeable. At one point it can be a powerful bow, and at another, two short swords, just by separating the two blades that make the bow.
Effects:
• Gives +10 damage to every Wind jutsu the user performs
• Each Wind jutsu the opponent performs loses -10 of its damage
• When the user focuses Fuuton chakra into the swords, they release a bright flash after which a huge burst of wind is sent outwards, covering 180 degrees in front of the user. The winds exerted by the blades seem white, due to the reflection of the light exerted by the swords beforehand.
• By making a downwards slash with the swords, the user can release a bow of wind, that scatters into multiple shots.
• By focusing Fuuton chakra into the swords, they glow a bright white, like when Asuma focuses wind chakra into his trench knives, so much that, if it slices through flesh, it immediately cuts open the flesh, causing some bleeding, depending on where the strike hits. Due to this huge wind blast, the opponent will see waves of light and reflections of the swords around the swords, so he/she doesn't know when or where the sword will actually hit. The user is protected from this by using her Fuuton chakra to keep the wind away (by spinning the blades (this can be done with the blades together in one hand, or separated)).
• When spinning the blades, they can create a small, powerful vortex of wind that can then be shot at the opponent to blow them away.
• By focusing Fuuton chakra into the bow, when an arrow is shot, it goes much faster than a normal arrow, and also deals much more damage than a normal arrow would. The arrow's trajectory can also be controlled by the user since it is infused with the user's chakra.
-Even though the weapon is indestructible, it cannot destroy everything-
-All active abilities can only be used twice a battle-
-Focusing Wind chakra in the weapon will cause small cuts on the user, as she cannot keep all the wind away. The Wind chakra exertion lasts for two turns-
-When the user uses this weapon in battle, he/she cannot use another Custom Weapon during the entire battle.
https://narutobase.net/forums/showthread.php?t=20237&page=2&p=2882616&viewfull=1#post2882616
(Kendou: Mugen Ichi-Katana kata) - Kendo: Infinite One-Sword Style
Type: Supplementary
Rank: Forbidden
Range: Short-Long
Chakra: 50
Damage: N/A
Description: The user grabs a giant container of katanas that is wrapped in a type of cloth or wire to hold/travel with it (This can also be done if a scroll that holds multiple swords like tenten's.). The user then throws it above him and his opponents location and then the swords slide out and land around the battlefield making around 10 to 20 sword scattered around. This is only to supply the swordsman with multiple katanas to fight with. This technique was created by the belief that no swordsman needs a perfect sword, but the ability to wield any sword with great skill. Each sword has a little trick to them which only allow the user of this technique and others that know it use them freely. If the opponent with no knowledge of this trick attempts to wield one of these swords the hilt will extend needles to hurt the opponents hands like Kisame's shark scale sword. Due to that, the Infinite One-Sword Style was created to help the swordsman, aid allies in battle, and to put extreme psychological pressure towards the opponent from the exaggerated amount of blades.
Note: Only musasibou can teach this.
Note: Can only use once per battle.
Note: Only users of this technique can wield the swords.
Scientific Tools and Artifacts:
N/A
---
Pictures
Background Music and Theme Song
[video=youtube;LSvOTw8UH6s]https://youtu.be/LSvOTw8UH6s[/video]​
Battles
Won:

0
Lost:

0
Additional info
---
-
Updating
IOSS / Infinite Sword Style:
https://narutobase.net/forums/converse.php?u=8611&u2=7596
After clearing it up with LGeezy, he stated that the IOSS CJ I originally learned from Musashibo and then passed onto KeotsuEclipse are separate from his CFS of Infinite Sword Style, even though in it's entiriety it's is basically the same idea. I do plan on learning the CFS from him eventually.
✪ Approved ✪​
Last edited by a moderator: