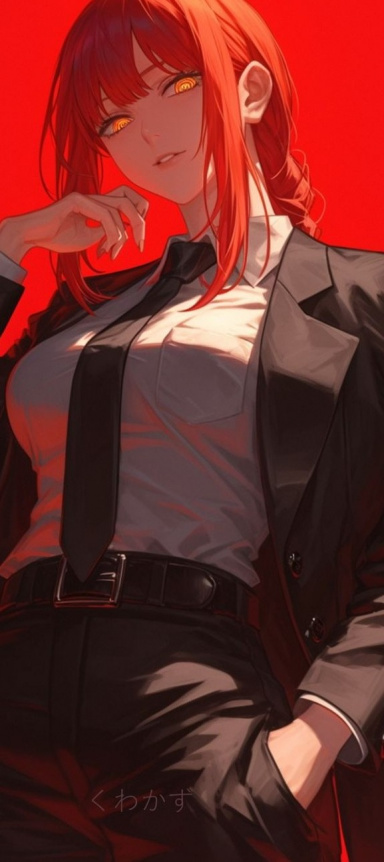 Legendary
Basic Information
---
​
You must be registered for see images
"If we were all the same, it would be pointless. For one to be beautiful, there must be those who make them stand out. If you're not coveted and envied, how will you feel the value of beauty? And with value, the one who grants it stands out. "
​
​
Gender:

You must be registered for see images

Female
​
Clan:

Hayabusa (Yubokumon)
​
​
​
Leda is constantly described to be a beautiful woman, and the self proclaimed most beautiful. She is a woman with long, purple tinted hair and dark crimson red eyes. She can also be viewed as a female version of Dio or Casshern since their shape is nearly identical. She wears a skin tight battle suit like her counterparts with a large collar that is red and black in color. She also has her own battle helmet, more unique than Casshern's and Dio's, still revealing her hair while being able to become a mask. She also wore dual sharp expandable batons on her hips for battle as well as many other concealed weapons.
​
​
Her "mask" consists of a golden tiara with three large, misshapen spikes on it, which form a W with the two spikes on either side noticeably smaller than the large spike in the middle. To connect it to the rest of her head, and in front of her face is red cloth.
​
​
​
You must be registered for see images
​
Village Info
---
Village of Birth:
Owatatsumi
​
Village of Alliance:

Missing-Nin
​
Rank/Chakra Info
---
Specialty:

Water (1HS) | Advanced Speed Specialist (+2) | Apex Speed Specialist (+4) | Dispatch | Combat Yo-Yos (CFS)
​
Fire​
Sound​
Stygian Water​
​
​
​
Ninjutsu | Taijutsu | Genjutsu | Kenjutsu | Cloud Style Kenjutsu | Ladybugs | Ladybug Ninjutsu | Barracudas | Barracuda Ninjutsu | Neidan
​
​
​
​
You must be registered for see images
​
Background Info
---
​
Not much is known about Leda. She is a traveling ninja who abandoned her clan's home village some time ago to discover new power in the ninja world. Unlike other missing-nin, she has no quarrel with her home village. She also thought this necessary as she was not born of the main branch of Hayabusa, starting out an outcast since birth. Maybe one day she will return to seek solace and make amends with her home village. But as of now, her destiny leads elsewhere.​
​
​
You must be registered for see images
​
Other
---
​
Water Affinity: Due to Leda's high level of mastery over water techniques, she can perform all water techniques with only a single hand seal.​
Advanced Speed Specialist:
Your base speed is increased by 2 additional levels. This makes your movement faster than those of your rank. This increase stacks on with Active speed increases such as Leg Weights or Eight Gates.
​
Apex Speed Specialist:

Your base speed is increased by 4 additional levels. This makes your movement faster than those of your rank. This increase stacks on with Active speed increases such as Leg Weights or Eight Gates.

​
Note: Requires any Increased or Advanced Speed/Tracking/Speed Resistance Specialties. ​
Weapons: Leda carries a variety of weapons. In her ninja pouch, she carries shuriken, kunai, explosive tags, flash and smoke bombs, ninja wire, bolas, combat yo-yos and all the other items essentials for a ninja. Leda also carries a six pair of katana that are concealed in her suit but easily accessible. Her signature weapon are the Wings of Venti. ​
​
​
(Tsubasa no Venti) - ☪ Wings of Venti ☪
Type:
Weapon
Rank:
S
Range:
Short-Mid
Chakra:
N/A
Damage:
N/A
Description:
The wings of Venti are a pair of giant metal wings that are pearl white in color. They were the embodiment of an angelic weapon. These wings can reflect the sunlight or other sources of light off of themselves to blind all surrounding opponents in the area. This will only work in short range and requires 10 chakra to do so acting as a flash bomb blinding for one turn. When wielded by the user they give the user the ability to increase their sound propulsion abilities. They are so big and strong that they double as a weapon and a shield when covering the wielder. They are neutral to B rank techniques and can defend from S rank in damage before being destoryed. When used in conjunction with sound release, the sound waves resonate on the metal and increases the sound's capability and its frequency. These sound techniques receive a +10 boost. These wings have hidden blades that pop out of the endings of the wings at the user's will and the wings are chakra controlled so they can be used in battle completely free and mobile as the user fights. When they make contact with other solid objects, they carry waves of sound that deafen the opponent for as long as the wings keep banging. The sound waves not only deafen the opponent but because of the high pitch and increased volume, it causes a searing headache that is easily capable of distracting and breaking the opponent down. This only effects a short range and is C ranked in power. The user can also flap these wings in a certain pattern, using their wings to create a wind tornado barrier of A rank that deflects hand weapons, thrown weapons, taijutsu attacks, etc. This can be used as many times as the user sees fit. The Wings of Venti can also be used to fly, however, this is only straight up and can last for only three turns with a two turn cooldown.
Note: All ranked techniques adhere to the chakra/damage rules
Note: These wings are neutral to all techniques up to B rank, they can only block one S rank technique in power.
Note: Can only be given to others from Moxxi
Dispatch: The user is capable of using Inner Sonar passively, capable of hearing things as if they were through a dispatch to prevent loud sounds from being damaging. Note: Requires Sound.​
​
Hayabusa Clan: The Chakra no Ryujin (Chakra of the Dragon) is the name of the Hayabusa's chakra. It is the chakra passed down from the Hagoromo through Ninshu combined with the spiritual beings of the Watatsumi Sanjin that exist within all Hayabusa. Through this chakra, the Hayabusa gain the ability to manipulate the state of existence. The Hayabusa manipulate existence through Wuji, the progenitor of all existence. Looking purely at the nature of existence itself, everything came into existence from nothing. Wuji is that "nothing" that gave birth to "everything." The Watatsumi Sanjin possessed the ability to manipulate the state of their existence and thus, when they embedded themselves in the Hayabusa the latter became capable of doing the same. The Hayabusa manipulate existence, either erasing or bring into existence entities, through their ninjutsu which they call Neidan. The Hayabusa also combine Neidan with taijutsu and bukijutsu in Hayabusa Kobudo. The capabilities of Neidan and how Wuji is interacted follow a set of rules based on the limitations of the Hayabusa. The most basic fundamental traits of Neidan are developed in their passive traits of Wujin and Taijin and further elaborated with actual techniques (submitted techniques). As well, due to the Watatsumi Sanjin spiritual beings residing within all Hayabusa they possess heightened spiritual beings which manifest in their resistance to spiritual damage and minor physical traits that distinguish them from other people. Jack currently wields the Master Ninja rank within the clan. This title is given to jounin level shinobi who undeniably the strongest members of the Hayabusa clan both in combat and Neidan knowledge and application. Dragon Ninja who become capable of not only fighting but teaching others or Head Ninja who develop their combat ability are those who ascend to master level. They are the leaders of the clan and exist to serve the clan and Grandmaster. Masters can sense all other Hayabusa aside from other masters (unless they so wish) through Taijin. As for their spiritual resistance and Wujin active application, master ninja can utilize each application three times for a span of no longer than one turn or each application twice for no longer than two turns concurrently. At his current rank, he is able to have 3 Golden Elixir (300 Chakra each) in which he keeps on him for battle (actually have 2 with 300 Chakra each). On the center of his chest is a unique symbol that resembles a black and white koi fish circling each other like the Yin-Yang symbol.​
​
Summoning Tattoos:

Leda has two summoning tattoos. A barracuda design which runs down her left forearm, and a ladybug design on the top of her right breast.
​
​
​
(Kuchiyose no Jutsu: Joō Tsutsuji) - Summoning Technique: Queen Azalea
​
Description: Queen Azalea is the queen of the ladybug hive and the personal summon of Moxxi. She stands at 20 feet tall and is actually rather slender for a ladybug, only being the width of a semi-truck. Instead of the usual red and black ladybugs usually support, she is all black with dark purple dots and has a very, very evil demeanor. She has very long pincers around where her mouth is. She has the ability to perform B rank and below wind jutsu with the flap of her wings, which counts as a move. Due to her wings being massive and giving the wind jutsu an extra push, no matter the technique, it goes from short to long. She also has the ability to fly, but this also counts as a move and only lasts for three turns and must wait three turns to fly again. She also has a rock-hard shell, making her invulnerable to C rank and below techniques but she is also vulnerable to fire, making her weak to C rank and above fire techniques. In addition to these abilities, she does in fact speak and quite frankly do her and Moxxi have conversations with eachother. Queen A. is quite the trash talker.
​
​
Note - Can only be summoned by Moxxi
​
Note - Can only be pierced by B rank and above techniques and C rank and above fire techniques
​
​
​
​
Theme Song and Background Music:
​
​
​
You must be registered for see images
​
Battles
---
Approved by Imperfect.

Note, because you don't have the Primary Summoning Specialty, you don't get your Personal Summon with you at all times.
You'll need to summon Queen Azalea just like any other summon in every fight, or choose that Primary Specialty.​
Last edited by a moderator: