There are several things interesting about Shin that can't be ignored and I'll list them:
1.) How did only one Shin have a space/time technique?
2.) Was that Shin a sentient being or it being controlled like the Paths of Pain?
Now I know that with the current script writers, the Shin clones will never be used again but let's indulge this idea anyhow. The Shin I'm referring to is obviously the small, walking, stumpy cyclops. As you can see, he has the same Mangekyou sharingan design that all of kid Shin have:
Note:
It is important to note that in the anime portrayal, they changed tiny Shin's Mangekyou sharingan into a standard 3T sharingan, which is bullshit but whatever: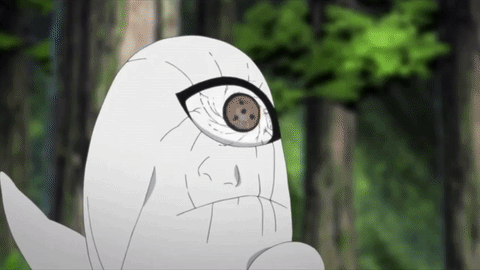 But why is that one in particular so special? After discussing that, we know that Shin's MS has two abilities which are Manipulation of objects that have been marked and space/time technique. But what if that tiny Shin was controlled like the Paths of Pain or at the very least, like an extension of the Real Shin's will; much like Zetsu?
There's too much OP to his character and the clones that can't be ignored, like the fact that none of the Shin clones have displayed any of their MS abilities but they did activate them multiple times during battle. But anyway, I'd like to hear your thoughts on this; What do you all think?