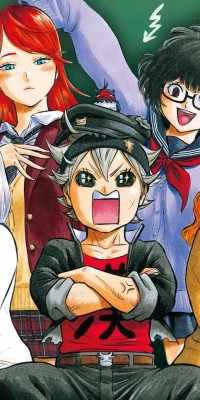 Supreme
".... You do understand that bringing him into horizon can backfire on us right? His parents was the Leader of a rebellion years ago! We cant afford any type of damage! Especially considering what previously happened to horizon!" a mystery man spoke.
It was a meeting in a small room inside horizon. These people were separate from the Dean but they also had pull. They alot of times handpicked people from across the world to take part in their school. Not for better education but for protection. They were like scouts for the best heroes. This practice essentially was looked down upon due to the fact that these "people" have been known to "use" these scouts for their own person greed and not always for good reasons.

"Boyd just died!!! We need people! We need forces, and you worried about a damn rebellion!? Suck it!" The other mystery man retorted. "We need somebody who is willing to do what we need done! even if that means bending justice to get it done. If you dont like it, then you are on the wrong board"

The air got tense, you could cut through it. The place got quiet, and tempers were flaring. "Enough you two! Hakumen has arrived... Bring him in" the third mystery man said to an unknown nobody. Moments going by, a silhouette emerges...
six months earlier; Germany
​
" Der weiße Ritter ist also auf die Spur gekommen? Teufel noch mal!!! Er ist nur ein Neuling! Töte ihn! " The angry German spoke. It was 1:32 am and hakumen was already hot on the trail. One of the biggest Villain groups in Germany and they were being tailed. This group was responsible for multiple deaths and crime. Hakumen didnt bother with it at first until one of his friends who was a pro hero got caught in a fight with them and lost his life in the line of duty. This Sparked Hakumen sense of justice once again. Being the top of his class at his school in Germany he was well known for simply being the best rookie.

"sehr gut. Wenn wir Ihre Erlaubnis haben, werden wir die Bedrohung beseitigen" The person spoke in response to his boss. Instead of waiting for Hakumen to show up, the decided to act first. Two hours passed and they already found the location of Hakumen home. They suspected him to be sleep so they arrived in stealth. Like a black cat at night to a blind man. Multiple criminals coming out of the car in haste making sure not to slam the door to alert him. Guns drawn, like they were the swat. The man in charge giving the silent count down before the burst into Hakumens home only to be greeted with Hakumen himself a chair, as if he himself was waiting. His sword in between his legs. As their guns was drawn on him, the blood lust in the area spiked, but it wasnt due to the criminals, it was Hakumen. He was man for justice but didnt tolerate injustice as much as he was justice. Everybody in the room froze as Hakumen drew his sword.

"Heh" The leader of the brigade scoffed. "The Demon Slayer ; Okami , The Lost Weapon in the flesh.. We been looking for that treasure.. No worries though. Once we deal with you, We will go ahead and take that off your hands". Hakumen without saying a word took a position, and a full blown fight followed after. Hakumen was a student of the top samurai master in all of germany, so his fighting style revolved heavily around swordsmanship. Unsheating his sword he began strike down his enemies one after another. His speed when it came to swordsmanship was as if he was another person. Not only that but he was one of the very few swordsman who uses both has to grip his sword during combat that he know of. The only time he uses one hand is when he utilizes his quirk. Hours took place and the leader and Hakumen been at it. He was stronger than meets the eye but a body fell, and the sinner was judged.

To say he came out unscathe would have been a fairytail. Multiple wounds, cuts and even bullet wounds, blood splattered the walls and multiple lifeless bodies on the floor. Hakumen had a certain persona attached to him. When his mind is set its hard to break his train of thought. Its as if he is a robot. Wrapping up the cuts, taking out the bullet and wrapping his leg up, applying pressure. He, himself went to the hospital. After he set foot in the hospital he blacked out. He had one mission and that was to make it there without failure. It was said Hakumen was sleep for 3 days, and due to his battle, they were able to track down and trace the leader of the whole operation. Hakumen was shown as the Hero who took down one of the most dangerous villains groups in Germany. Sadly his sword was somehow lost in all of the commotion, or stolen But he knows that he will get it back some day. That Day, all of Germany Gave him the name, Hakumen; The White Knight

Present Day ; Horizon
​
"We heard you was a big shot in Germany.. I mean you was the one who essentially took down one of the biggest villain associations there... Right?" One of the mystery man said. Putting on a tone as if he was really a fan. Hakumen always carried his sword that was famous in Germany, the Demon Slayer; Okami and always wore armor. The armor wasnt reinforced as a custome so it easily broke, but for this meeting he came in with nothing but regular clothes, and he didnt have his weapon since it was lost in germany after his famous battle. Hakumen had planned to come to the states to join horizon through multiple recommendations but since the people at Horizon personally Invited him he would go ahead and take the invitation.

"If thats what you want to call it.." Hakumen stated, Stiff as a brick sitting down. Several seconds going by, the awkwardness beginning to settle. "Well.." The third mystery man said breaking the silence "We wont take much of your time, or even dwell on what happened. You have a great rep and are honored you took our invitation to join our school. Im sure as you know, not too long ago our school was attacked by random villians.. Ever since then we are trying to reinforce our school with not only better material defenses but heroes who stand up for justice and deliver punishment within the limits of what - " "Limits?" Hakumen Interrupted "All sinners should be punished. There is no sin too small or too great for punishment. Even the judge shall be judged one day" Hakumen continued.. Once again the tension sparked back up from before Hakumen stepped into the room, and awkwardness filling back up. "oi! I knew this was a mistake! " The first mystery man spoke. "Hakumen Jinn ... Welcome to Horizon" The third mystery man spoke simply cutting the meeting short before things got alot more tense. Hakumen getting up and began to walk to the door. Without turning around he spoke "I hope this school is without sin. Ive done enough purging for awhile"
Last edited: